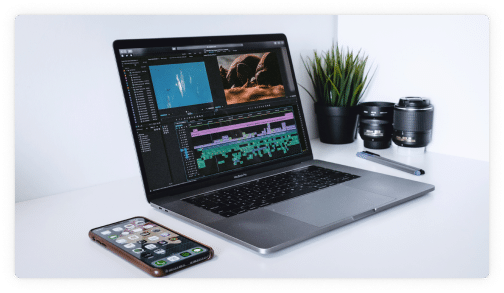 You shoot. We edit amazing videos!
We create client-ready corporate content from existing videos and photos. We will process and edit your materials into stunning snackable video content, video ads, testimonials…
Included in the offer « EDITOR »
Let's create effective videos!
Upload your footage and we take it from there.
We use your photographs and videos to make astonishing editings. We can perform online ads, clients testimonials snackable content or more!
$350 /video (advised)
Have something that doesn't fit into the options above?
Over 600 satisfied customers trust us!
After having talked with our Project Manager (video or phone call), we will edit your video and return it to you by email in line with our discussions.
Your video editing is not performed by software, but is manually done to ensure ultimate quality. We observe 2 quality controls on each video, and we give you the option to rectify it.
Delivery within 5 business days
Thanks to our own technology (allowing us to sort your files and improve color correction + exposure adjustment) we deliver your video within 5 working days only.
Need a 100% personnalized video?
Why is it necessary to communicate, especially these times?
Gain visibility
Currently, the amount of web users is rocketing: this is the perfect timing to reach more prospects.
Maintain social connection
Internally with colleagues or externally with clients, partners
Stand out
Don't get yourself forgotten or get behind of competition: be better and faster than your competitors.
Show your adaptability
The current events push us to adapt our sales and marketing strategies.
Need a quote or more information?
Contact us to discuss how much footage you have and what type of video you wish to receive! Our french team will reply within 24 hours.